What Are Apologetics, and What Is My Role?
I recently came across the following quote by Alvin Toffler:
"The illiterate of the 21st century will not be those who cannot read and write, but those who cannot learn, unlearn, and relearn. "
I believe this is true in the realm of church history and doctrine. Many Latter-day Saints learned the Church's narrative as children, and some grew up and unlearned what they knew from a child by consuming faith-critical information. The question is, do we relearn beyond the negative misinformation that might have shaken our faith? My hope with LatterDayTimes.com is to help the faithful, and those who have left the Church, in this battle of misinformation.
This brings me to the topic of apologetics and our role as Latter-day Saints. 
From a 2010 Church News article:
'Be Ready' to Defend Faith
By R. Scott Lloyd
Church News staff writer
Published: Tuesday, Aug. 10, 2010
LDS Church News
There are some who turn up their noses at apologetics," Brother Peterson said, particularly critics of the LDS Church who say apologetics is not concerned with truth, is intrinsically dishonest and is not real scholarship.
"But this is a fundamental misunderstanding," he said. "Apologetics, like any other form of reasoning from evidence, can be either good or bad."
Socrates, Origen of Alexandria, Thomas Aquinas, John Locke and C S. Lewis are among historical figures he mentioned who belong to the "venerable" tradition of apologetics.
"What troubles me, though, is some faithful (LDS) members profess to disdain apologetics as well," he said. "This seems to me really misguided and not well thought out."
He added, "I think it is a duty incumbent upon all of us to 'apologize,' in the original sense, for our faith, and it's simply a human duty to 'apologize,' in that sense, for positions that you hold."
He cited 1 Peter 3:15, Paul's admonition to "be ready always to give an answer to every man that asketh you a reason of the hope that is in you with meekness and fear." The word translated in that passage as "answer" is the Greek word apologia, or apology, Brother Peterson said.
Read the full article here: http://www.ldschurchnewsarchive.com/articles/59708/Be-Ready-to-Defend-Faith.html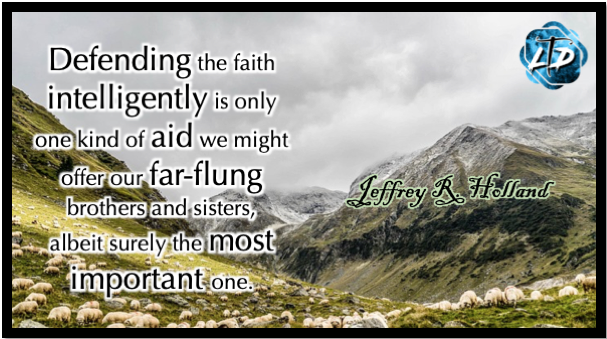 Scott Thormaehlen received his Master's in History in 2016 and taught U.S. History in the Lone Star College system in Houston, Texas and for Alvin Community College. His writings have appeared in Accuracy in Academia, the Journal of Multidisciplinary Studies at Sam Houston State University, LDS Living, Meridian Magazine, and East Texas History – a project by Sam Houston State University.